The XPRIZE Community helped design a data challenge for gender data gaps in mental health, backed by the Gender Gap Fund.
Click here
for a summary of the prize design.
Join the community
to be among the first to know when this prize is funded and launched.
Project Idea for Gender Equity
Shashi
Mumbai, India
Posts: 337
admin
AI is learning gender bias from humans. Biased data leads to biased insights, biased algorithms, biased solutions and policies, and ultimately a world that is designed only to meet the needs of the few. However, if harnessed for good, AI and machine learning can create a future in which unbiased insights tell the story of all humanity —not just a subset of it.
Join us in our efforts to prevent a cycle of algorithmic bias and enable an equitable future for humanity by submitting a project idea to the
Gender Equity Breakthrough Track
.
Projects with the potential to generate the highest and most immediate impact will be championed by experts and considered for a finalist position. The top three finalists will then be selected by the Gender Equity Brain Trust and will have the opportunity to present their projects in an interactive workshop at the virtual
AI for Good Global Summit September 21-30, 2020
.
For more information, tune into the recent webinar,
AI Technologies to Achieve Gender Equity
, to hear Gender Brain Trusts discuss the track, this year's themes and how you can get involved. For all further questions, please contact
[email protected]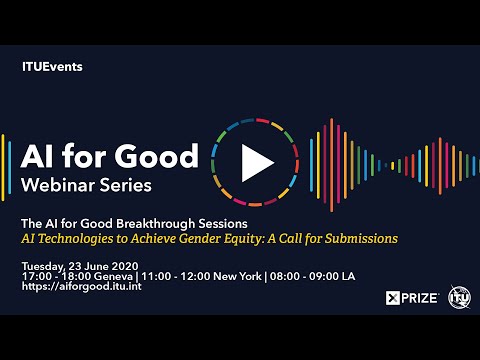 Submit your project idea today!